Managing Partner, Huqooq Legal Practice – HLP Law Firm, Member of the Board of Directors, Beirut Institute (UAE)
"Beirut Institute is where thinking will definitely take the lead over any other form of human fight.."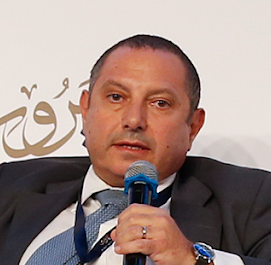 Badih Moukarzel is the managing partner of Huqooq Legal Practice (HLP) for the UAE offices. He has extensive experience in the hotel and leisure industry both within the GCC region (Gulf Co-operation Council for Arab States of the Gulf) and internationally. There is a particular complexity in corporate structures for companies operating in the region relating to the differing laws and regulations of individual states, which can produce conflicting requirements on a group of companies operating in the region. Badih has particular experience in the structuring and restructuring of groups of companies so as to achieve the optimum solution in terms of management control and tax mitigation. .
Badih combines a particular diversity of commercial and academic experience. Not only did he spend 5 years in Paris with a hotel and restaurant group with businesses in London and Eastern USA as well as France, 
acting in an executive role for legal, tax, finance and management administration issues but he is currently a visiting lecturer in administrative law, tax and public international law at the Université Saint Joseph as well as being the Founder and President of the Environmental Association in Lebanon (Action Environment).
His clients include governments, hotel and leisure groups, postal, freight and logistic services, private equity funds and companies operating mainly in UAE, Saudi Arabia, Qatar and Kuwait.