Former Secretary General, League of Arab States (Egypt)
"A showcase of Arab diversity and excellence, Beirut Institute will advance a constructive discourse globally."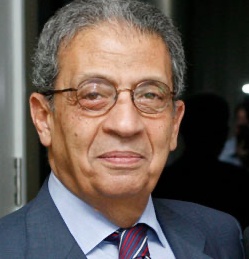 Amre Moussa was the Egyptian Ambassador to India (1983-1986). Then he became the Permanent Representative of Egypt to the U.N (1990-1991), the Foreign Minister of Egypt (1991-2001) and the Secretary General of the League of Arab States (2001-2011).
He ran for President of Egypt in the first democratic elections following the 25th of January Revolution as an independent candidate with a vision for democracy and a firm call for reforming Egypt's bureaucratic and economic infrastructure. He lost the elections but continued his political career and was elected member of the Constitutional Assembly to write the constitution of 2012. He led the Liberal members' efforts to produce a more liberal constitution, and then led a collective withdrawal protesting attempts to monopolize the drafting of the constitution.
Moussa then founded the Congress party of Egypt and was the convener of the meeting of the Egyptian opposition that launched the National Salvation Front on the same day the dictatorial Constitutional decree of November 2012 was issued by ex-President Morsi.
Moussa called all political forces to meet few hours after the decree was issued, to organize the opposition to the decree. He played a principal role in the popular move that caused it to be retracted.
Amre Moussa was one of the leaders who called for and marched during the June 30th revolution brought in reforms in accordance with a Road Map that started with amending the 2012 constitution and holding parliamentary and presidential elections. Moussa was elected chairman of the 50-member Constituent Committee to amend the constitution. The assembly succeeded in producing the new constitution which was approved on 18th January 2014.
Amre Moussa continues to work with several Arab and International political think tanks. In Egypt, he was selected as Chairman of the Board of Trustees of the Nile University and member of the Board of Trustees of the Egyptian British University and the Library of Alexandria. Moussa also founded the association to protect the Constitution, a civil society organization.
He was awarded the Order of the Nile from Egypt, the Order of the Two Niles from the Sudanese Republic, the Supreme Order of the Renaissance from the Hashemite Kingdom of Jordan, a high order from the State of Qatar, in addition to orders and decorations from Brazil, Argentina, Germany, Ecuador and Venezuela.