Former Minister of Algeria United Nations and Arab League Envoy to Syria
"People want to take part in the decisions that affect their lives; they want their dignity back and they want an end to corruption."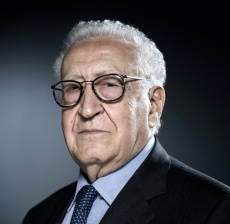 Brahimi was the United Nations special representative for Afghanistan and Iraq. Before his appointment in 2001 by the Secretary-General, Kofi Annan, he had served the U.N. as special representative to Haiti and to South Africa. Before coming to the U.N., Brahimi, who represented the National Liberation Front in Tunis during Algeria's independence movement in 1956–1961, was an Arab League official (1984–1991) and the Algerian Minister for Foreign Affairs from 1991 until 1993. Brahimi was also chair of the Panel on United Nations Peace Operations, which produced the influential Brahimi Report.
On a visit to Baghdad in April 2004 to help determine how and when Iraqi elections can be held, he said that the recent violence threatened to delay Iraqi national assembly elections—the national assembly is to pick the president and write a constitution.
"The elections scheduled to take place in January 2005 are the most important milestone," Brahimi said. "There is no substitute for the legitimacy that comes from free and fair elections." (Witter, 2004) Brahimi suggested that the Iraq Interim Governing Council should be dissolved, and that most of its members should not have any role in the new government. Though the council was in fact dissolved early, some of its members will have major roles in the new government. The president, one of the two vice-presidents, and the prime minister are all from the council. Most prominently, his criticism of Ahmed Chalabi has led to Chalabi's claim that Brahimi is an Arab nationalist who should have no role in determining the future of Iraq. At the same time, close allies of Chalabi have been pushing claims that various world leaders and the UN took bribes from Saddam Hussein under the Oil for Food program.
In May 2004, Brahimi was supposed to play a large advisory role in the appointment of candidates, which ended up selecting as Iraq's new interim President and Prime Minister: Ghazi Mashal Ajil al-Yawer and Iyad Allawi, respectively. However, Brahimi expressed serious disappointment and frustration about his role. "Bremer is the dictator of Iraq, He has the money. He has the signature. … I will not say who was my first choice, and who was not my first choice … I will remind you that the Americans are governing this country." According to a person who spoke with him, "He was very disappointed, very frustrated," al Dulame said. "I asked him why he didn't say that publicly (and) he said, 'I am the U.N. envoy to Iraq, how can I admit to failure?'" Brahimi announced his resignation, resulting from "great difficulties and frustration experienced during his assignment in Iraq", at the UN in New York on 12 June. While serving as the United Nations envoy to Iraq, he described Israel's policy towards the Palestinians as "the big poison in the region".
On 5 February 2008, the UN Secretary-General, Ban Ki Moon, appointed Brahimi to lead a panel investigation on United Nations staff security in the wake of the Algiers bombings of 11 December 2007. He was one of the founders of the French language Journal of Palestine Studies called La revue d'étude palestinienne.
On 17 August 2012, Brahimi was appointed by the United Nations as the new peace envoy to Syria, replacing Kofi Annan.
On 13 May 2014, UN Secretary General Ban Ki Moon announced that Brahimi would resign as the special envoy to Syria on 31 May 2014
Brahimi addressed a police academy in December 2016, expressing his wish that Algeria and Morocco should "leave the Sahara issue aside in an effort to build a communal economy based on exchange." His statement caused shockwaves in Algeria.
In March 2019, he is mandated by Abdelaziz Bouteflika to preside over the national conference that is to propose a new constitution and set the date of the presidential election.