Former Minister of Interior in Lebanon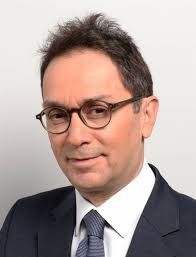 Ziyad Baroud born 29 April 1970) is a Lebanese civil servant and civil society activist. He served as minister of interior and municipalities, considered to be one of the most powerful positions in the country, from 2008 to 2011 for two consecutive cabinets in both Fuad Siniora and Saad Hariri's governments.
Baroud is one of the few political personalities who is appreciated by both ends of the rivaled Lebanese political clan and thus, subsequently holds good esteem with many of the personas across the complex and contentious Lebanese political spectrum.
An attorney by formation and practice, Baroud is an expert on issues of decentralization and electoral law reform. He is known to abstain from engaging in feudal politics, and to focus instead on building the Lebanese civil society and Lebanese civil institutions. During his mandate as minister of interior, Baroud was credited for pushing 
forward a culture of responsibility and openness where he made himself easily accessible to all Lebanese citizens eager to share complaints and/or opinions, and was widely present in day-to-day activities of his subordinates. His actions resulted in an unpremeditated cultivation of a very attractive public image that he still possesses today.
Baroud was also credited with overseeing Lebanon's best-managed round of elections to date in 2009, which he orchestrated in one day instead of the conventional four weekends, a record in Lebanese history. This has earned him the First Prize of the prestigious United Nations Public Service Award where Lebanon was ranked first among 400 government administrations from all over the world by the United Nations Public Administration Network (UNPAN).
On 26 May 2011, Baroud resigned from office as minister of interior and municipalities in Saad Hariri's government after an inter-party conflict developed between the Internal Security Forces and the Ministry of Telecommunications in Lebanon.
Ziyad Baroud has been granted several awards to date, in 2010 he was the recipient of the International Foundation for Electoral Systems (IFES) Charles T. Manatt Democracy Award, which recognizes extraordinary efforts to advance electoral participation and democratic values. Baroud is also the recipient of the distinction of the French Legion of Honor or Légion d'Honneur, the highest decoration in France, ranking him as Chevalier,  and of the Grand Cross of the Spanish Order of Civil Merit (Sp: Orden del Mérito Civil) rewarded for "extraordinary service for the benefit of Spain."